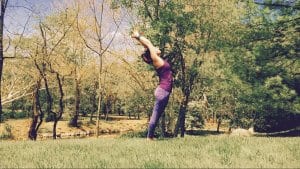 Written by : Andy Vantrease
There are many reasons why travel is beneficial for the human spirit. It exposes you to new languages, cultures, cuisine, geography, beliefs, and struggles. You get to reinvent yourself each place you go, to be a version of yourself that you may be afraid to show at home for fear of judgment. With each new territory, your perspective changes a bit. Your eyes open to new sights, your nose to new smells and your body to new sensations. Perhaps the most rewarding, though, is the chance to open your heart, which requires putting yourself out there without knowing what you will receive in return. No guarantees. Travel requires patience, flexibility, adaptability, openness, and the willingness to be vulnerable.
Yoga, like travel, allows you this same platform. (Okay, maybe you're not eating shawarma and tandoori chicken each time you attend class – although if you are, tell me where this is happening and sign me up!) But, when you step on your mat, you are arriving to a new place in your mind, one that you only you can create. We're not talking time-travel here, but we are talking mind-travel. You've made the conscious decision to dedicate time to practice, to show gratitude, to explore new space, to breathe air into tight corners, to locate negative thoughts and repopulate with positive. You step on your mat, and you can be anyone you want to be.
A yoga practice begins with inward reflection, a place to face your fears, your decisions, your feelings, your strengths and areas for growth. It allows you to open up to your true self, who you are at your deepest, most cellular level. Then, you continuously work to bring that person out into the world, to show him or her to others.
To live is to be vulnerable and to find the courage to be imperfect and authentic. With the pressures of the world swirling violently around us, it takes courage to follow the path you feel is truly right for you. There are many roadblocks, many who will doubt you and many, many instances when following your heart will be much harder than following the crowd. And in the midst of wanting to be accepted, connect with others, succeed in your job and your relationships, being vulnerable is terrifying. But it's necessary.
There is no true connection without authenticity, no compassion for others without first being kind to yourself. Keep going. Keep opening. Keep looking within and find the courage to expose your deepest self to others. Be real. Be true. Be yourself. Be vulnerable. And let others do the same.
"Vulnerability is at the core of our darkest emotions- shame, fear and struggle for worthiness – but it's also the birthplace of every positive emotion we have in our lives: love, belonging, joy, empathy, and compassion." – Brené Brown